St. Stephen's and St. Agnes is located six miles south of Washington, D.C. in Alexandria, Virginia.
Our school consists of three distinct campuses within a 1.5 mile radius, each uniquely tailored to meet the needs of the students within.
The Lower School, grades JK-5, is located on Fontaine Street; the Middle School, grades 6-8, is located on West Braddock Road; and the Upper School, grades 9-12, is located on St. Stephen's Road.
Explore Our Campuses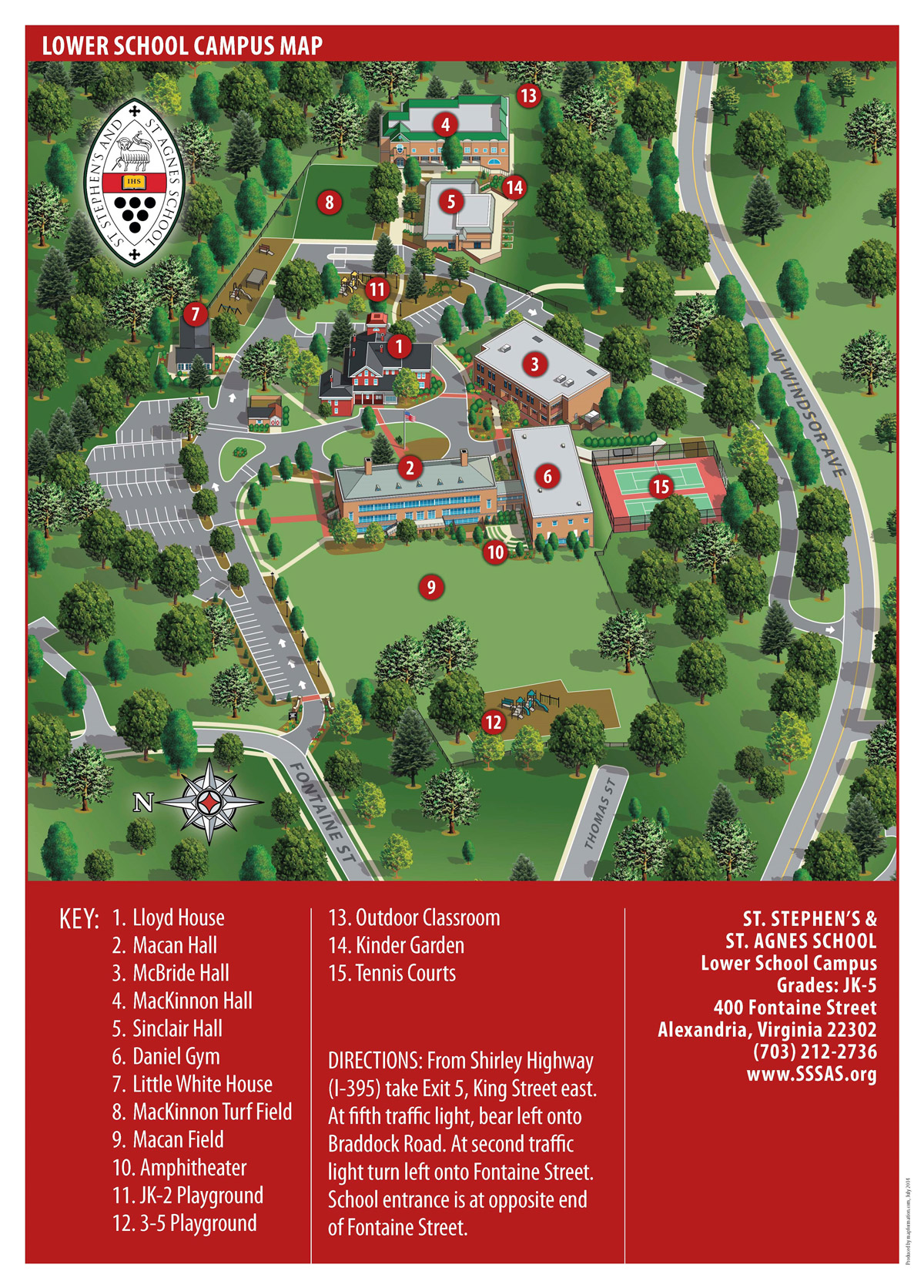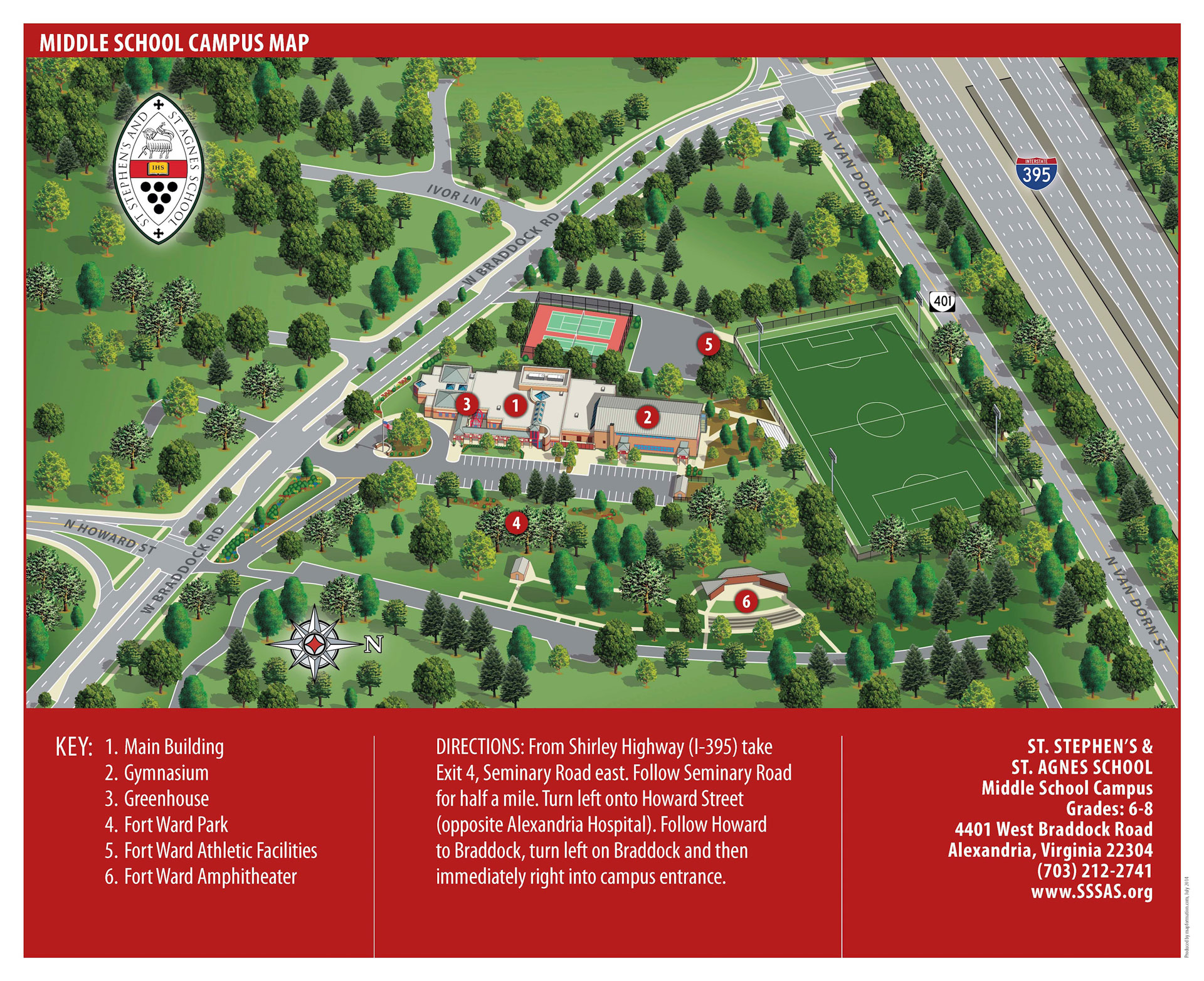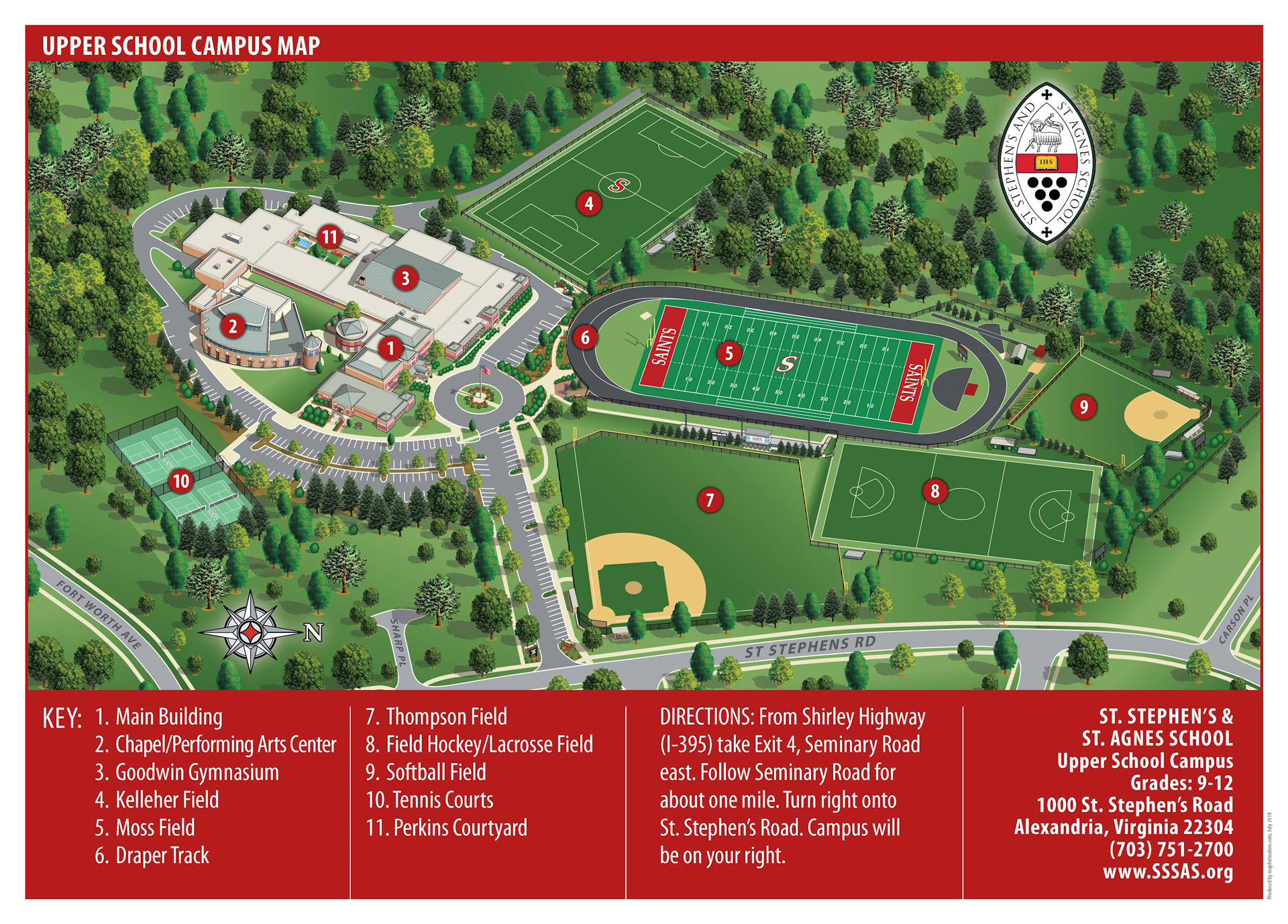 ---
Rental of our Facilities
St. Stephen's and St. Agnes School has a variety of facilities across three campuses that are available for rental by members of our community. Indoor and outdoor facilities include classrooms, meeting rooms, gymnasiums, grass fields, turf fields, and tennis courts.

If you are interested in renting our facilities, please contact us at [email protected] or 703-212-2810.
Facilities Available for Rent
Lower School (400 Fontaine Street, Alexandria VA 22302):
Classroom space
MacKinnon multipurpose room
MacKinnon field (turf surface)
Dining Hall (seating for 100)
Lloyd House Parlor room
"Daniel" Gymnasium
Tennis Courts (two, regulation sized, hard surface tennis courts)
Middle School(4401 W Braddock Road, Alexandria, VA 22304):
Classroom space
Dining Hall (seating for 110)
Gymnasium
Library
Upper School (1000 St. Stephens Road, Alexandria, VA 22304):
Classroom space
Dining Hall (seating for 200)
Blackbox performance theater
Tennis Courts (four, regulation sized, hard surface tennis courts)
"Goodwin" Gymnasium
Baseball Field (natural grass)
Wrestling Room
"Wills" Library
Kelleher Field (turf surface, lined for soccer and boys lacrosse)
Football Field (turf surface)
---
General Information
The school will rent to groups whose use of the space is consistent with the school's mission and philosophy. If the proposed activity does not align with the school's mission, the rental will not be allowed.
The school does not make its facilities available during the school day. In general, facilities are available to outside groups after 6:30 p.m. on school days and on weekends. Availability during the summer depends on the school's summer program schedules.
​​​​​​In order to rent our facilities and secure rental dates, the following information will be required:
legal name of rental organization or renter
address of renter
primary contact person's name, title, phone number and email address
facility to be rented
date(s) and time(s) of the rental period
activity to occur during rental period
estimated number of attendees
Renters will then be provided a "Facility Use Agreement" and will submit an initial deposit to secure the date. Additionally, the renter will need to provide a Certificate of Insurance naming the school as additionally insured. Individual certificates for one time, single day events may also be purchased through a Tenant Users Liability Insurance Policy (TULIP).
The school may cancel an event, or a subset of rental events at any time if it deems the renter's use of its facilities to violate the school's use policies as described in the Facility Use Agreement. Though rare, the school may also need to cancel an event in the case that a school activity (e.g. a rescheduled athletic activity) must take precedence. The renter may cancel the event, or a subset of rental events, by providing written notice to the school at any time up to two weeks before the event occurs and forfeit the deposit. Should the renter terminate an event with less than two weeks written notice, the renter will be required to pay the entire rental fee for the terminated rental event(s).
In case of inclement weather (e.g. snow) where the school must close its campuses, the school will communicate any decision affecting the facility rentals to the renter as soon as possible. Should the renter want to cancel an outdoor activity due to inclement weather (e.g. heavy rain), the school will work with the renter to reschedule the event.
Ample parking is available on each of our three campuses for event attendees.
Contact us at [email protected] or 703-212-2810 if you have any questions or would like to schedule a facility rental.