Each year a number of St. Stephen's and St. Agnes graduates go on to play their sports on NCAA Division I, II, and III athletic teams.
In recent years, they have represented baseball, basketball, crew, cross country, field hockey, football, golf, ice hockey, horseback riding, lacrosse, sailing, soccer, softball, swimming, tennis, track & field, volleyball, and wrestling.
SSSAS provides active and extensive support to all Saints student-athletes who want to pursue their respective sport(s) at the collegiate level.
Because there are many differences with regards to individual sports, the NCAA division level at which they play, and academic standards of individual colleges and universities, each student-athlete's college process is unique. These differences impact all aspects of the recruiting process to include, contact times and visiting days, signing dates, financial aid and scholarships, etc.
The SSSAS Athletic and College Offices are an important resource in this process and work closely to assist student-athletes and their families in many ways:
Coaches, Athletic Directors and College Counselors serve as points of contact for College Coaches who are recruiting Saints athletes
Providing college coaches with materials (transcripts, standardized test scores and video) in support of student-athletes
SSSAS provides students and families with information regarding the NCAA, it's rules, regulations and divisions
Further information on playing in the NCAA can be found on the NCAA Eligibility website.
Here are the student-athletes from the four most recent graduating classes who went on to play at the collegiate level and the schools they entered.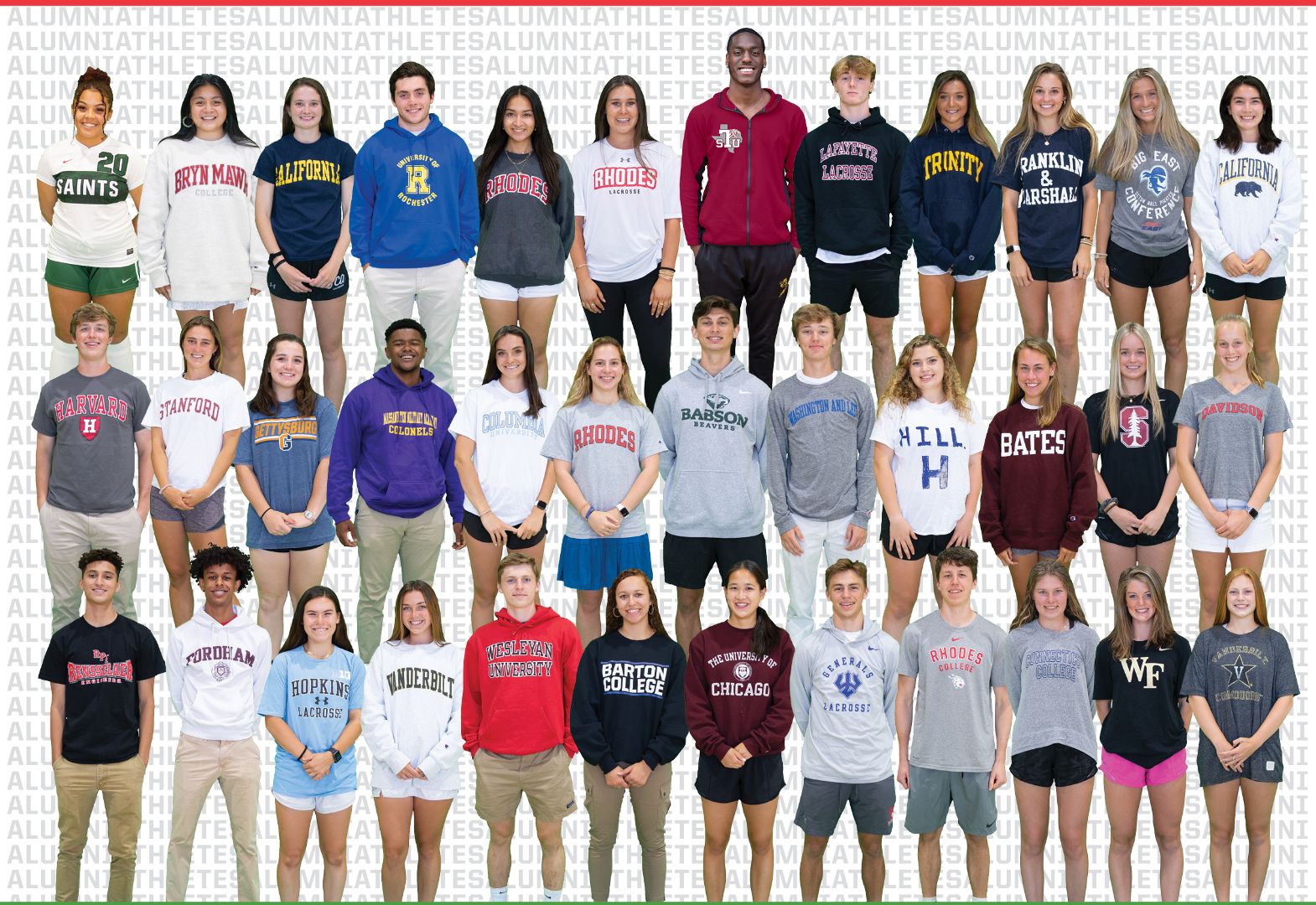 Victor Arrate | Soccer at Rensselaer Polytechnic Institute
Nathan Bezuneh | Cross Country/Track at Fordham University
Hadley Boston | Lacrosse at Johns Hopkins University
Cate Bradley | Lacrosse at Vanderbilt University
Kyle Burbage | Soccer at Wesleyan University
Chumani Chamberlain | Basketball at Barton College
Jane Chen | Lacrosse at University of Chicago
Keene Cornick | Lacrosse at Washington & Lee University
Colin Donovan | Lacrosse at Rhodes College
Lindsey Donovan | Lacrosse at Connecticut College
Olivia Duvall | Soccer at Wake Forest University
Trystan Fogg | Lacrosse at Vanderbilt University
John Fontham | Lacrosse at Harvard University
Annabel Frist | Lacrosse at Stanford University
Amy Gastright | Softball at Gettysburg College
Eric Gordon | Basketball at Post Grad at Massanutten Military Academy
Julie Griswold | Lacrosse at Columbia University
Olivia Heck | Swimming at Rhodes College
Tison Hill | Football at Southern Texas University
Kris Huber | Lacrosse at Lafayette College
Brooke Kurtz | Lacrosse at Trinity College (CT)
Lane Lambeth | Lacrosse at Franklin & Marshall College
Caroline Lipton | Soccer at Seton Hall University
Mira Majure | Lacrosse at University of California at Berkeley
Max Mallett | Lacrosse at Babson College
Will Matia | Lacrosse at Washington & Lee University
Nicole Moran | Field Hockey at Post Grad at The Hill School
Emily Mueller | Lacrosse at Bates College
Rita Peterson | Lacrosse at Stanford University
Emily Smith | Soccer at Davidson College
Tai'Lyn Smith | Soccer at Farmingdale State College
Leilani Soriano | Lacrosse at Bryn Mawr College
Sydney Southworth | Lacrosse at University of California at Berkeley
Finlay Weiss | Soccer at University of Rochester
Elinor West | Field Hockey at Rhodes College
Olivia Wood | Lacrosse at Rhodes College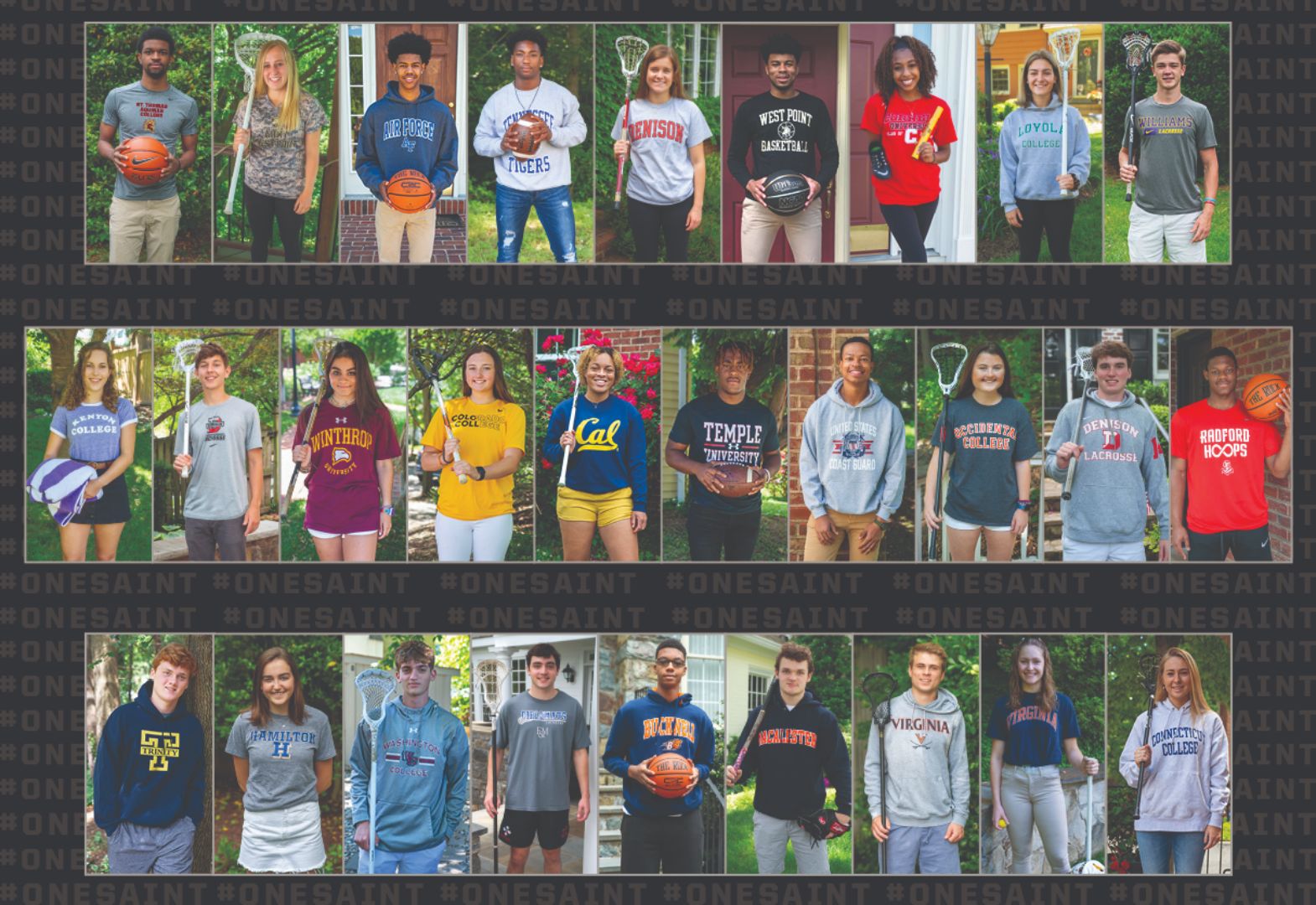 Jamal Barnes | Basketball at St. Thomas Aquinas College (NY)
Lacey Bartholomay | Lacrosse at the U.S. Military Academy
Chase Beasley | Basketball at the U.S. Air Force Academy
Tre Boone | Football at East Tennessee State University
Kate Coward | Lacrosse at Denison University
Jared Cross | Basketball at the U.S. Military Academy
Nyia Cummings | Track at Cornell University
Izzy D'Antonio | Lacrosse at Loyola University (MD)
Bjorn Davidson | Lacrosse at Williams College
Claire Fergusson | Diving at Kenyon University
Luke Fisher | Lacrosse at Denison University
Shivani Gifford | Lacrosse at Winthrop University
Bridget Hanley | Lacrosse at Colorado College
Simone Holland | Lacrosse at University of California at Berkeley
Lamumba Howard | Football at Temple University
Tyler Jones | Football at U.S. Naval Academy Prep/USCGA
Hallie Knutson | Lacrosse at Occidental College
William Lane | Lacrosse at Denison University
Xavier Lipscomb | Basketball at Radford University
Will McConnel | Football at Trinity College (CT)
Alex Mceneney | Track at Hamilton College
Dimitri Nicolaidis | Lacrosse at Washington College (MD)
Drew Pascal | Lacrosse at Franklin & Marshall College
Andre Screen | Basketball at Bucknell University
Henry Watson | Baseball at Macalester College
Ben Wayer | Lacrosse at University of Virginia
Ashley West | Lacrosse at University of Virginia
Dillyn Zindler | Lacrosse at Connecticut College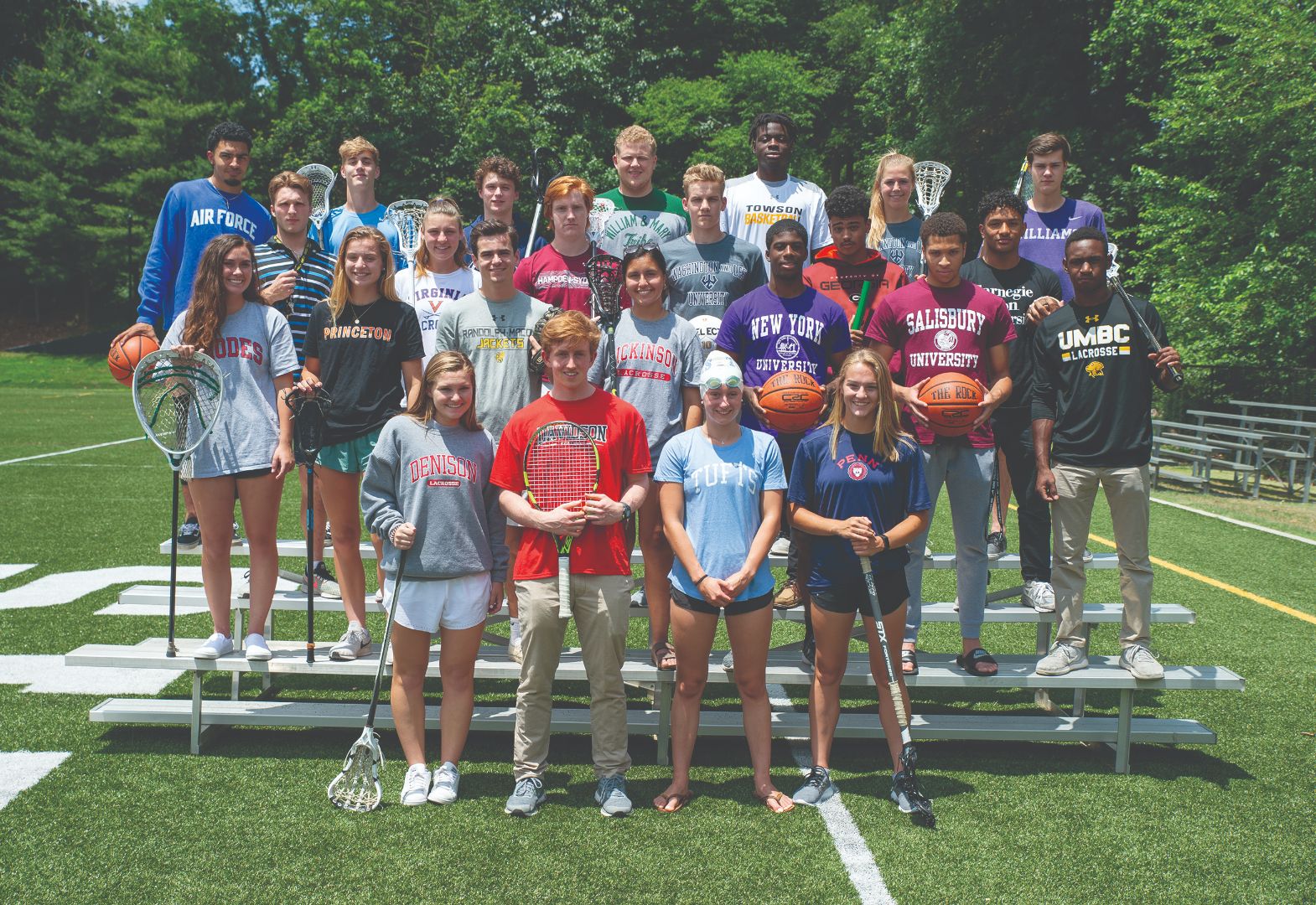 Tory Atkinson | Swimming at Tufts University
Curtis Borden | Track & Field at University of Georgia
Emma Bradley | Lacrosse at Rhodes College
Caroline Burnett | Lacrosse at Princeton University
Alex Burtnett | Lacrosse at University of Virginia
Christina Cavallo | Lacrosse at Washington and Lee University
William Clark | Tennis at Davidson College
Chase Cohen | Tennis at Williams College
Christian DePollar | Basketball at U.S. Air Force Academy
John Ryder Duncan | Baseball at Randolph-Macon College
Nick Dupuis | Lacrosse at University of Maryland - Baltimore
Tommy Dyson | Lacrosse at Hampden-Sydney College
Mason Edwards | Lacrosse at University of Maryland - Baltimore
Gabriella Guadalupe | Lacrosse at Dickinson College
Jalen Meares | Basketball at Salisbury University
Kennon Moon | Lacrosse at University of Pennsylvania
Ephraim Reed | Basketball at New York University
Emma Repke | Lacrosse at Denison University
Jackson Reynolds | Lacrosse at Pennsylvania State University
Tyler Smith | Soccer at Washington and Lee University
Quinten Staples | Football at Carnegie Mellon University
Charles Thompson | Basketball at Towson University
Sam Trainer | Football at College of William & Mary
Andrew Tyeryar | Lacrosse at University of North Carolina Chapel Hill
Jared White | Basketball at Norfolk State University