A Transformational New Facility
Room to grow.
An investment in the arts and sciences.
A student commons and dining center to bring us together in fellowship.
Upper School Project Live Camera Footage
As we look to our future, we are steadfast in our commitment to maximizing the experience for all our students. Yes, this project is an investment in our future, but it is being built upon the strong foundation and resolve of today's Saints community.
The new Upper School space will provide redesigned art and science classrooms, a new dining hall, and a student commons in the center of it all. The new space will provide a beautiful, inviting environment for students to learn, study, eat, and hang out with each other.
We invite you to take a virtual tour of the reimagined Upper School space.
---
The Arts and Sciences
New state-of-the-art space for science and arts as well as additional general-use classrooms and meeting spaces will be adjacent to the Student Commons. These new classrooms and studios will unleash the creativity of our amazing faculty, providing the space and equipment for our students to engage in the most innovative learning experiences available. The art and biology classrooms will flow into outdoor spaces perfect for creating masterpieces and conducting science experiments.
---
The Student Commons
This project will provide a new heart of the Upper School where students can congregate, collaborate, meet with a teacher, share a meal, design a science experiment and then walk down the hall to the art suite to design and create the materials for it. The Student Commons will be a place of fellowship where the community can come together for an impromptu a cappella performance, to work on a project, to catch-up between classes, and admire the artwork of their classmates which will be displayed throughout the commons.
---
The Dining Hall and Terrace
In the bright, two-story dining hall, students will be able to gather in a welcoming space with peers to share a meal and connect about the day. The terrace, with views over Alexandria's Cameron Valley, will be the perfect spot for daily outdoor dining, community gatherings, such as faculty, alumni, or parent receptions and class celebrations.
---
Demolition Updates
---
What is the timeline for the project?
June - August 2023
Internal and external demolition of the dining hall and science classrooms
Groundbreaking
Learning Cottages constructed
September - December 2023
120' tour crane installed
Foundation begins
January - April 2024
Building weathertight
External structure completed
May - October 2024

If you have questions or concerns regarding the construction, please contact us at

[email protected]

.
---
The Process
Goal Five of our Strategic Plan calls us to evaluate the effectiveness of our existing campuses and ensure that they create the optimum environment for teaching, learning, innovating, and collaborating. As part of an assessment that included examining our three campuses and holding focus groups within our community, we determined that our Upper School campus warranted the most immediate and resource-intensive enhancement.
We have been working with a design team including engineers, specialists, and the architectural firm, Cox Graae + Spack to finalize the master plan which is beginning to move toward the permit application process.
---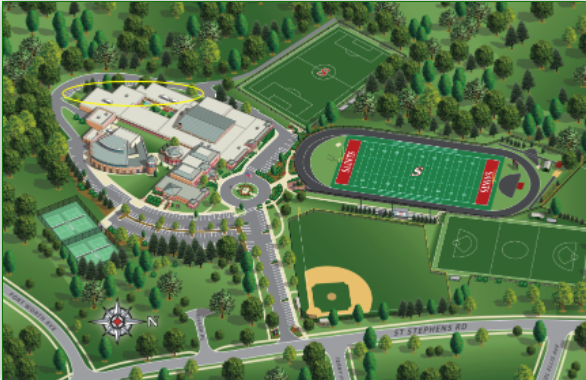 The yellow circle marks the renovation site.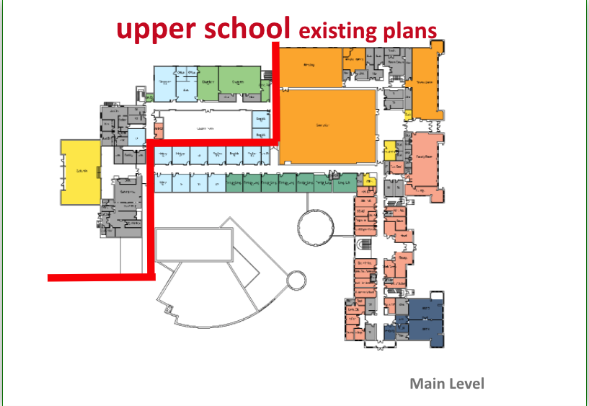 On the current floor plan of the Upper School, left of the red line indicates the part of the building that will be renovated.
Current Science, Art, and Dining Spaces
| | |
| --- | --- |
| Science Room | Art Studio |
| Dining Hall | Servery |
---
Upper School Plans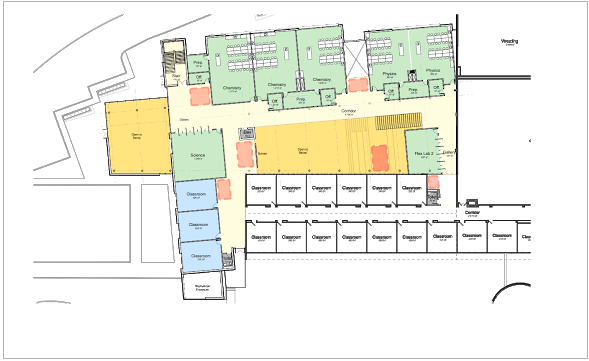 Upper Level Plans (Chemistry, Physics, General Use Classrooms)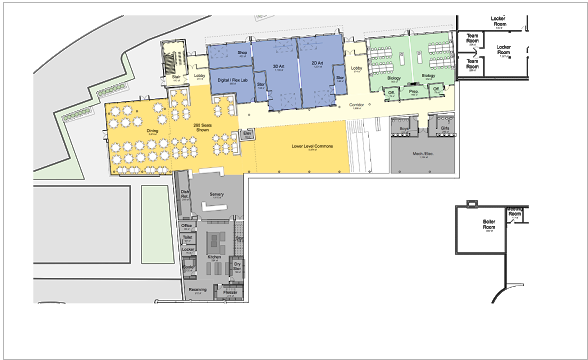 Lower Level Plans (Biology, Art, Dining Hall)


Cross-sectional View
---
St. Andrew's United Methodist Church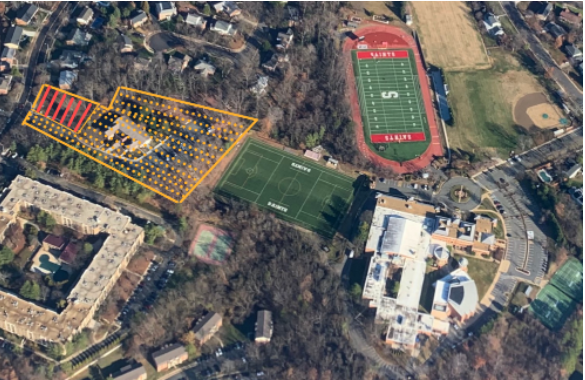 While the Upper School project alone will be transformational, we were also presented with an opportunity to partner with a neighboring congregation to increase our campus footprint. St. Andrew's United Methodist Church owns property adjacent to our Upper School campus. It is the only large piece of property adjacent to any of our campuses.
The yellow outline highlights St. Andrew's property. The congregation is in need of a new building but did not have the resources for such a project. After many years of conversation, we were able to develop a solution where SSSAS acquires a large portion of St. Andrew's property to serve future needs for the school while St. Andrew's, with funds from the sale, is able to build a new church to serve their congregation.
The church will build their new building in the area in red, and we will acquire the land designated in yellow. In addition, the site provides SSSAS an access to our property from Howard Street. We have often both said that the Holy Spirit is in this partnership.